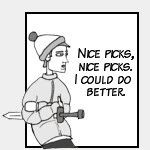 Here we go again. I'll be looking to bounce back from a terrible week of picks last weekend. It's gonna be hard and I've got a few upset picks in here too.
NCAA Week 6:

Saturday:

Boston College
at North Carolina State
South Carolina
at Mississippi
Florida Stat
e at Miami (FL)
# 13 Auburn
at # 19 Vanderbilt
#24 Connecticut at
North Carolina
#14 Ohio State at
# 18 Wisconsin
NFL Week 5:

Sunday:

Washington at
Philadelphia
Pittsburgh at
Jacksonville
Monday: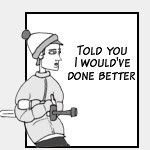 I'm 5-2 after the college games. I guess that's not bad but the Auburn loss to Vanderbilt (commonly known as a fluke) made things a little worst. Picking Wisconsin to upset Ohio State might've been a bad pick in hindsight, but it's a bad pick I'd make again even if these two teams were playing again next Saturday.

(*UPDATE*)

I finished the week at 8-4 thanks mostly to the Eagles blowing the home field advantage and an early lead. Still not a bad week though.